We have the right equipment and process, putting our customer and their landscaping first!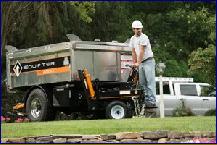 The RB4000, "Roofer's Buggy",  is a self-propelled trailer, drivable dumpster specifically designed to help us work smarter and faster.  On-site, you can drive the Equipter to wherever you need it. It's a self-propelled trailer that moves around via a gasoline powered hydraulic drive system.  At just 6′ wide and with a tight turning radius, the Equipter can get into compact spaces where trucks and trailers dare not go. Its large tires provide superior traction while distributing weight evenly to help prevent leaving marks on your lawns.
With the Equipter, we don't have to worry about hurting your landscaping. Its rear extension roll-back feature raises its large container up and over shrubbery, flowerbeds and other property features. The container's doors open to create a 10.5´ catch area so debris goes into the Equipter and not onto what you hold near and dear.
Siding – Steel | Aluminum | Vinyl | Cedar | LP SmartSide
Roofing – Asphalt | Steel | Decra Stone
Windows/Doors – Replacement and Storm | Insulation – Blown Cellulose | Decks
Soffit & Fascia | Trim | Seamless Gutters | Barn Restoration